COURSE SELECTION PRESENTATIONS FOR 2017-2018

Lunch presentations begin on Wednesday, February 1st to assist students in selecting the appropriate courses for the 2017-18 school year. Students must schedule their 2017-18 courses online through aeries February 13th through February 21st. Please review the schedule below for courses of interest and locations in order to attend these very informative meetings. All math options and most world language options will be discussed through your current math or world language classes.

This year there will be an additional lunch presentation for sophomore and junior students led by Ms. Tzetzos and senior students to address the issue of the stress that comes as a result of an academic and extracurricular schedule that is too demanding. Please encourage your sons and daughters to attend these lunchtime presentations. We thank you in advance for your support in monitoring your student's course selection to ensure academic success and emotional well-being.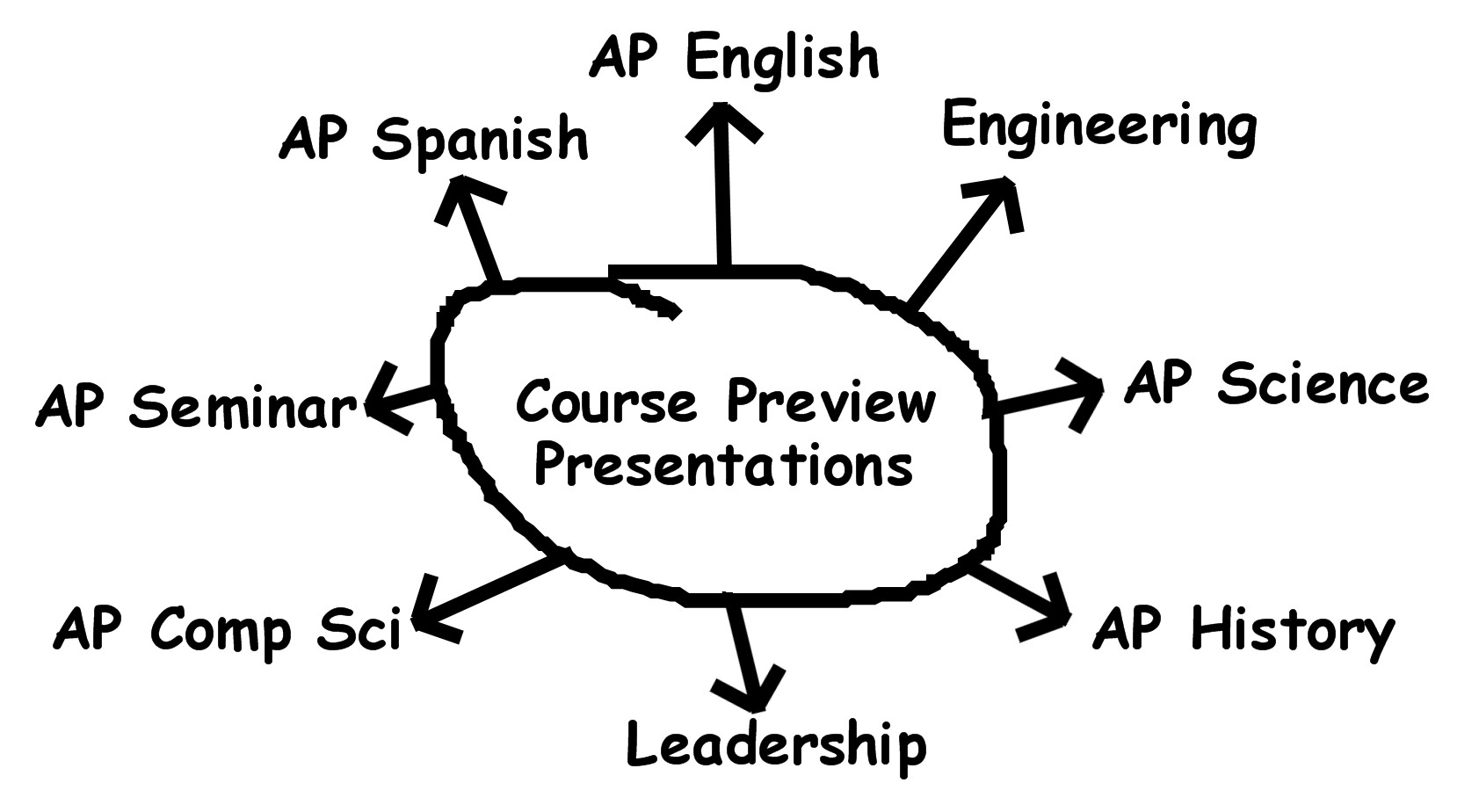 Course Preview Presentations – 2017

Wednesday - February 1 T104/T105
All Engineering Courses - Twiet/Rudder
Thursday – February 2
T104/T105
AP Comp Sci (all levels) - Twiet

Monday – February 6 CCC
AP US History/English 3 Honors - Dunn & Patterson

Tuesday – February 7 CCC
AP Biology - Yamaguchi

Wednesday – February 8 CCC
AP Chemistry - Lee & Starodub

Thursday – February 9 H33
AP Environmental Science - Smith

Friday – February 10 S20
Comparative Religions/Adv Philosophy - Maechling

Monday – February 13 P102/P103
AP Euro History/English 2 Honors - Frazier & Dibble

Tuesday – February 14 CCC
AP Physics (all levels) - Greenberg & Spalding

Wednesday - February 15 CCC
Selecting an appropriate course schedule - Tzetzos and students
(For sophomore and junior students only)

Thursday – February 16 CCC
Leadership Opportunities - Cress, Dibble, Tootell, Myrick, Pollock

Friday – February 17 CCC
AP Eng Lang & AP Eng Lit - Colin, Patterson & Dibble

Tuesday – February 21 P122
Spanish AP (Lit and Lang) - Valerio & Pupich

Wednesday – February 22 CCC
AP Seminar