NATIONAL HONOR SOCIETY - PVPHS Chapter
Adviser: Ms. Paula Borstel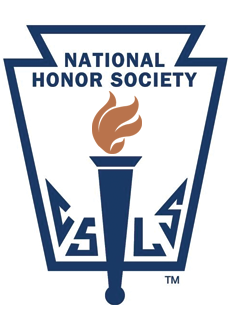 Room S10
Ext. 42210
[email protected]
The National Honor Society (NHS) is the nation's premier organization established to recognize outstanding high school students. More than just an honor roll, NHS serves to honor those students who have demonstrated excellence in the areas of Scholarship, Leadership, Service and Character. These characteristics have been associated with membership in the organization since their beginnings in 1921. Today, it is estimated that more than one million students participate in activities of the NHS. NHS chapters are found in all 50 states, the District of Columbia, Puerto Rico, many U.S. Territories, and Canada. Chapter membership not only recognizes students for their accomplishments, but challenges them to develop further through active involvement in school activities and community service.
Students with an un-weighted total (cumulative) average GPA of 3.65 or higher, 50+ hours of community service and 2 or more strong leadership positions are eligible to submit a Candidate Information Packet (C.I.P.) for selection in the Palos Verdes Peninsula High School Chapter of NHS in September of their junior or senior year (junior year is suggested). Check the door of room S10 the first week of school for a list of eligible students. If you are expecting a grade change that will allow you to become eligible, the grade change must be complete before the last day of August of the year you wish to submit a C.I.P. Please note that unsatisfactory marks in citizenship or demerits can affect selection, given citizenship is one of the pillars of NHS.
Candidate Information Packets are only available to eligible students at the Mandatory Informational meeting, usually held on a Wednesday evening of the first full week of school. The original C.I.P. must be scanned and uploaded in a pdf format to a PVPHS TEAM specifically for prospective NHS members, as the paper C.I.P. will not be accepted, by the designated deadline, with no exceptions. The deadline is posted and set in stone, and a C.I.P. will not be accepted even 1 minute after the deadline. Students have almost a month between the Mandatory Information meeting and the deadline; plenty of time to complete the packet. Other requirements include, but are not limited to: written in ink, NO WHITE OUT: strike-through and initial any incorrectly written information.
The process by which students are selected by the Faculty Council for membership is based upon the four pillars of NHS: Scholarship, Leadership, Service, and Character. C.I.P.'s should be neat, orderly and complete.
Transfer students who are NHS members at another school are automatically accepted into PVPHS NHS and do not need to submit a C.I.P. for review. Please provide Mrs. Borstel with a copy of your acceptance letter. Returning members do not need to attend the Mandatory Information meeting or submit another C.I.P.
Once selected for NHS membership, attendance at all meetings as well as the induction ceremony are MANDATORY, as well as cost of membership of $175 for 1st year members and $50 for 2nd year members. Additional requirements to maintain membership include but are not limited to: a 3.65 or better GPA each remaining semester, one (1) hour of library tutoring per semester, two (2) community service hours per month, two (2.0) service hours of textbook check-out for rising seniors in Aug/Sept, and one (1) hour of textbook return for all Juniors in May/June, as well as all other NHS activities.
Failure to complete any one (1) of these activities will result in probation. Once on probation, failure to complete a 2nd activity will result in removal from NHS.
During the spring semester of their junior year, NHS members in good standing are eligible to run for a position on the NHS board which they will hold as a senior. The positions of president, vice-president, secretary, treasurer and up to 6 other board positions will be open. Board members assist with preparation for and at all meetings, speak at induction, and assist with elections, among other activities. Expect to assist a minimum of 10 hours during Aug/Sept/Oct. These positions provide an opportunity for leadership experience and school involvement.