CALIFORNIA SCHOLARSHIP FEDERATION (CSF) - PVPHS Chapter
Adviser
: Mrs. Betsy Okamoto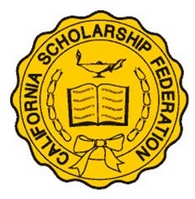 Room H65
Ext. 42665
okamotob@pvpusd.net
California Scholarship Federation (CSF) is an organization that emphasizes high standards of scholarship and community service for California high school students. It was founded in 1921 and it is the oldest scholarship institution in the state of California. Please read the following information about the organization and find out why you should join as well as finding out important dates for the new school year.
What is CSF?
California Scholarship Federation (CSF) honors outstanding high school students for their academic excellence and community service and is recognized by colleges and universities throughout the country. Students may join CSF by simply applying for membership after each semester's grading period of high school (seven semesters total) if they meet the eligibility requirements. Eligibility is based upon a student's grades from the previous semester. For each A that a student may receive is three (3) points and for each B one (1). A student must have 10 points in order to be considered eligible for CSF. Also, for
honors or advanced placement classes a student may earn a bonus point (maximum of two). Students may check the eligibility lists that are posted outside of the Hawthorne Office and H65 to see if they meet the requirements. Please note that students are not automatically inducted into CSF; they must apply for membership each semester. If a student is a member in CSF for at least four (4) semesters by graduation (only sophomore through junior years with at least one semester from their senior year), they are granted the title of CSF Sealbearer. They are presented gold cords to be worn at graduation, gold seal on their diploma and a note on their official transcript that indicates they have achieved Sealbearer distinction. Should they have been active in community service, they may also earn a stole to be worn at graduation should they have a minimum of 50 hours or verifiable service. Only CSF and NHS are allowed this honor. They are also eligible for one of the many scholarships that CSF awards every year.
Freshmen may join CSF after they have completed one semester of high school. They are considered junior or associate members under the constitution of the state CSF Board. Therefore, their first year in high school does not contribute to Sealbearer status; once again, only their sophomore, junior and senior years count. However, students are encouraged to join and be recognized for their academic achievement. CSF membership is published each semester in the PTA PawPrints and on the CSF web site.
During the spring semester of their junior year, members in good standing are eligible to run for a position on the CSF Board which they will hold as a senior. The positions of president, vice-president, secretary and treasurer, and roughly eight at large representatives are open. Board members assist with the membership drives, the Sealbearer Banquet, as well as the yearly elections. This provides an opportunity for leadership experience and school involvement.
The Application Process