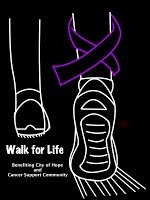 Our annual Walk for Life cancer fundraiser and carnival, benefiting City of Hope and the Cancer Support Community, is on February 22, 2019. This is always a very important and memorable day for our school community. During the Walk for Life carnival, students can choose to donate their hair to "Children with Hair Loss," a non-profit organization that makes wigs for children battling cancer and other diseases causing hair loss. After the carnival, our students, teachers and community members will walk together up to Highridge Park and back. All of the money raised by Walk for Life Participants will go to cancer research and support for cancer patients and their families.
In February, students and community members can sign up to participate in the walk and/or having their hair cut. Girls: your hair must be at least 8 inches long, so please consider not cutting your hair between now and then.
In the meantime, we are looking for sponsors and hair dressers! Sponsors will have their logo or family name on the back of our Walk for Life shirts, worn by over 2,000 students and community members. A Walk for Life Sponsorship is $150, and is needed by January 28th in order to have the logo on the back of the shirt. Please use the
Walk For Life Sponsorship Form
to submit your donation.
We greatly appreciate your consideration and generosity. Last year our Panther Family came together to raise over $40,000, all of which was given to City of Hope and Cancer Support Community.