NATIONAL HONOR SOCIETY - PVPHS Chapter - updated 8/9/2021
Adviser: Mrs. Paula Borstel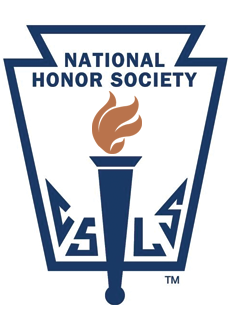 Room S10
[email protected]
NHS members with questions should contact the NHS board at

[email protected]
Because NHS seeks students that are mature, responsible and show initiative, we ask that parents instruct their sons/daughters to contact us directly with any questions. 
The National Honor Society (NHS) is the nation's premier organization established to recognize outstanding high school students. More than just an honor roll, NHS serves to honor those students who have demonstrated excellence in the areas of Scholarship, Leadership, Service and Character. These characteristics have been associated with membership in the organization since their beginnings in 1921. Today, it is estimated that more than one million students participate in activities of the NHS. NHS chapters are found in all 50 states, the District of Columbia, Puerto Rico, many U.S. Territories, and Canada. Chapter membership not only recognizes students for their accomplishments, but challenges them to develop further through active involvement in school activities and community service.
Currently, we have 81 21-22 Senior PVPHS NHS members, and 78 junior members
TRANSFER MEMBERS: Any transfer student that was a member of NHS at their previous High school should provide Mrs. Borstel with a copy of their acceptance letter, and can gain immediate membership with payment of dues*.
MEMBERSHIP SELECTION: Juniors and Seniors seeking membership in the Palos Verdes Peninsula High School Chapter of NHS must have a minimum unweighted total (cumulative 9th-current) GPA of 3.65. Eligible students are invited to attend the NHS Information meeting in early September in order to receive a Candidate Information Packet (CIP) in which they detail their post 8th grade community service hours and leadership positions. Candidates are required to show evidence for, at a bare minimum, 50 hours of verifiable community service and 2 meritorious leadership positions that benefit the school or community at large. Leadership that extends more than a year is preferred. Once completed CIP's are submitted for selection consideration, each CIP is reviewed on its individual merits against the PVPHS NHS standards by our five (5) member Faculty Council.  Discipline points, teacher feedback and unsatisfactory citizenship grades are taken into consideration, but do not mean automatic non-selection. Students are selected for membership based upon adherence to  the four pillars of NHS: Scholarship, Leadership, Service, and Character, and require a majority vote of the Faculty Council. Please note: Not all 'leadership' positions may satisfy PVPHS NHS's high standards. See the NHS by-Laws for more information. 
MANDATORY INFORMATION MEETINGS - have concluded for 2021. Current Juniors and Sophomores (2021-2022 school year) will be able to register and attend the Mandatory Information Meeting tentatively to be held August 31, 2022.
Because NHS seeks students that are mature, responsible and show initiative, we ask that students contact us directly with any questions and concerns. 
More information will be posted as it becomes available.
More information can be found here: CFS and NHS Eligibility 
2021-2022 PVPHS NHS has selected 109 new members, about 65% of those that submitted a Candidate information Packet. Congratulations! 
Options for Volunteer hours.
As organizations contact me, I will post opportunities for volunteering. Posting of organizational opportunities is NOT a guarantee that NHS will accept said hours for NHS service hours
~Drama - DTASC need help April 30th. Sign up here.
.
~My name is Chewon Lee.
I am helping out with the Ridgecrest fundraising event SHOP.CREATE.REJUVINATE, which will take place on May 6th 4:00 to 7:00 pm. We are looking for high school students who are willing to volunteer to help on the day of the event to set-up/clean up, food and beverage distribution and help with the activities. I would really appreciate it if you can let students know about this volunteering opportunity.
Please follow this link:
https://www.signupgenius.com/go/10C0F4DAEA823A6FF2-shop
The volunteer students come to the " Welcome & Registration '' station to check in ,out and get food tickets.
Thank you in advance for your support!
The Palos Verdes Peninsula Chamber of Commerce is in need of some Student Volunteers to help us with our 34
th
 Annual PV Street Fair & Music Festival on Saturday and Sunday, June 11 and 12. 
They must be 14 and older.
 Job descriptions and shifts can be found on the Sign Up Document and Service Hours are absolutely available.  It is always an honor and a privilege to get to work with these awesome local students.  They are an enormous help and we are grateful for their support!