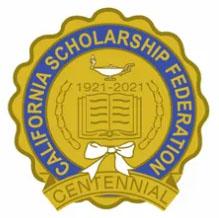 What

CSF Signups Last Day

When

9/15/2021
California Scholarship Federation (CSF) Applications
California Scholarship Federation (California's OLDEST honor society) begins their fall collection on August 30th.
Collections are at lunch August 30th – September 15th. Check the eligibility lists
outside of H65 and the Hawthorne Office to see if you qualify.
Applications are in the Hawthorne Office and H65. Apps are accepted in (location to be determined – will be in the bulletin) during lunch ONLY.
Collections end September 15th @ lunch
BUT DON'T wait until the last day to turn in the form!!
Membership is $25 (if paying with a check, make it payable to PVPHS – CSF and put the student's name on the memo line). Freshmen may not apply this time as they have not yet earned grades in high school.
Please note…if you are name is not on the list, please see adviser as it may be a clerical error.
Remember…NO LATE APPLICATIONS WILL BE ACCEPTED and you must use the official PVPHS application from campus.