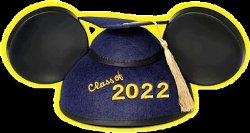 What

DLAND TICKET DEADLINE

When

3/23/2022
Seniors and parents of Seniors- PLEASE READ!
Senior Ditch Day at Disneyland is a special tradition that the graduating class of Peninsula High School has enjoyed for many years. We are thrilled to bring it back for the Class of 2022 to enjoy together.
We have been working with Disneyland for confirmation that they can reserve enough tickets for our entire senior class on Tuesday, May 17th, and Disney has shared that unless we purchase our senior class' tickets very soon, they cannot guarantee there will be space for us.
Therefore, we are moving the deadline to purchase your ticket for Senior Ditch Day up to
Wednesday, March 23rd
If you want to go to Disneyland for Senior Ditch Day with the rest of your class, you must do the following by
Wednesday, March 23
:
1.

First, please have your parent complete the permission slip for you sent through their Aeries parent portal. (If they did not receive the posting, please make sure that they have turned on (clicked) that they will receive all notifications. If it is only clicked on emergency, they will not get the email.) CONFIRM WITH YOUR PARENT/GUARDIAN ASAP THAT THEY RECEIVED THE EMAIL!
2.

Next, you will go to the Student Store to purchase your ticket and pay the bus fee. Bring your student ID as well as cash or check made out to "PVPHS Disneyland" in the amount of $183 ($158 for park hopper ticket (both Disneyland and California Adventure) and $25 for bus fee).
3

. If you have a Magic Key Pass that you plan on using on May 17th and want to attend Ditch Day with their class, you will need to make your own reservation online to enter on that day through Disneyland Reservations and then purchase the bus transportation through the Student Store. Bring your cash or check payable to "PVPHS Disneyland" in the amount of $25.


REMEMBER: LAST DAY TO PURCHASE IS WEDNESDAY, MARCH 23, 2022. HAVE YOUR PARENTS FILL OUT THE PERMISSION FORM THROUGH THEIR PARENT PORTAL.
YOU WILL NOT BE ABLE TO ATTEND DISNEYLAND/CALIFORNIA ADVENTURE IF YOU DO NOT PURCHASE YOUR TICKET AND FILL OUT THE PERMISSION SLIP BY MARCH 23!
DISNEYLAND COVID RESPONSE: