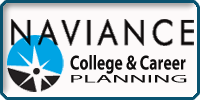 PV Peninsula High School offers students Naviance,
which is a great way to look for colleges,
learn about available scholarships,
organize your calendar,
and much more!
Freshmen will receive account setup instructions and login code during the Freshmen Counseling Lesson in November. All others should visit the College Career Center for log in information.
If you have an account, click here
to visit the PVPHS Naviance site