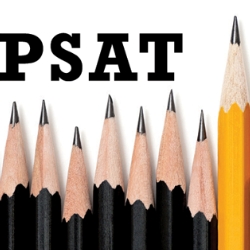 The 2017 PSAT and PSAT 8/9 will be offered to Pen students on Wednesday morning, October 11 starting at 7am. The PSAT 8/9 is the first in the College Board's "SAT Suite of Assessments" and is offered to our Freshmen. The purpose of the PSAT 8/9 is to establish a starting point in terms of college and career readiness as students transition to high school. The PSAT is designed for Sophomores and Juniors to prepare them for the SAT exam. For Juniors, this is also the qualifying exam for National Merit Scholar recognition.
All students taking the PSAT 8/9 or PSAT exam must attend a Pre-Admin session in the gym on Wednesday morning, October 4 to prepare their exam sheet.
Exam signups are in the Student Store while supplies last.
Click
here
for more information about the tests.